TOP 5 SMART HOME COMPATIBLE DEVICES
Posted on June 27, 2019 at 11:58 AM UTC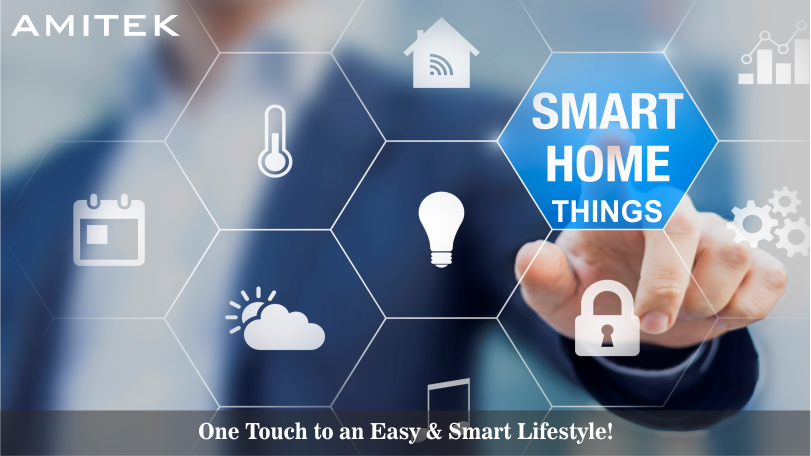 Making a premise smart and secure has become the future of Projects in Residential and commercial Segment.
Home Automation gives the user the power to run their space according to their mood by just a click of a button or by just a voice command. Lights, HVAC , Motorized curtain , Audio – Video Equipment and any other electrical and electronic appliance can be easily incorporated in a system where all of these work together and individually in a smarter and energy-saving way.
So Home Automation empowers the user to use their lights and other appliance to the fullest with major energy-saving parameters met while using them.
A complete different ambiance is created altogether using Smart user panels in case of wired Automation based on bus protocol and Smart switches in case of Wireless automation based on Wi-Fi protocol.
Basically the concept of wired automation revolves around creating Wow factors in a space which is an extraordinary experience when compared to the obsolete switches concept for residences.
Home Automation using Smart Switches which are wi-fi enabled was created to work on conventional wiring. Every load connected with the smart switch can be operated in a smarter way using a Smart Phone app, Voice control, Smart remote control.
Some Smart Home devices which are making Life easier :
AMAZON ECHO
It has far Field voice Control , has Bluetooth and wi-fi connectivity. It has Built –in Amazon Alexa voice Service . For Audio it has audio Output connectivity . You can control every electrical and electronic appliance that is working on Automation through Voice Control. it has One 3" Speaker and 1.32" tweeter.
AMAZON ECHO DOT
It is smaller and less powerful version of ALEXA ECHO . Compared to ALEXA Echo it is budget friendly . The only advantage with using Alexa echo dot is that it can be connected with your present speakers at home. So it's an extension to your background music also .
GOOGLE HOME MAX
A contemporary to Amazon Echo with one main Speaker and various small ones. All it depends on your budget how you wish to plan the user interfaces to your Smart Home. But if you want to do Music Justice also for your premises using same platform then you need to go for GOOGLE HOME MAX . It has built-in Chromecast. Two 4.5" woofers and 0.7" Tweeters.
SAMSUNG SMART THINGS HUB
Its one of the most versatile Device is Smart Home user interface with voice control segment. It connects and integrates with almost all smart home devices including Zwave , Zigbee , Alexa , etc. Ofcourse there is a programming involved when integrating non Samsung devices on the same. But when it comes to usability the universal user infaces perform much simply when compared to Smart things Hub
GOOGLE WiFi ROUTER
Here's a smart router that uses mesh networking technology to strengthen your Wi-Fi connection in rooms and bigger houses. It is an unbeatable product in WiFi Device segment. Cheaper in cost as compared to other mesh WiFi devices.
Endorsed by most of the architects and interior decorators as it can easily be connected and hidden near any desk , shelves , or anywhere near power source.
Related keywords : Automation solutions in jaipur , Automation solutions in delhi , Automation solutions in Rajasthan , Automation solutions in jodhpur , Automation solutions in udaipur , Automation solutions in Chittorgarh , Automation solutions in Bhopal , Automation solutions in indore , Automation solutions in Punjab , Automation solutions in Amritsar , Automation solutions in chandigarh , smart switches supplier in jaipur , smart switches supplier in Delhi , smart switches supplier in rajasthan , smart switches supplier in pune , smart switches supplier in mumbai , smart switches supplier in mumbai , smart switches supplier in indore , smart switches supplier in bhopal , smart switches supplier in amritsar , smart switches supplier in punjab