BUILDING AUTOMATION SYSTEM : The new aspect of technological integration for creating Smart Homes.
Posted on June 17, 2019 at 12:27 PM UTC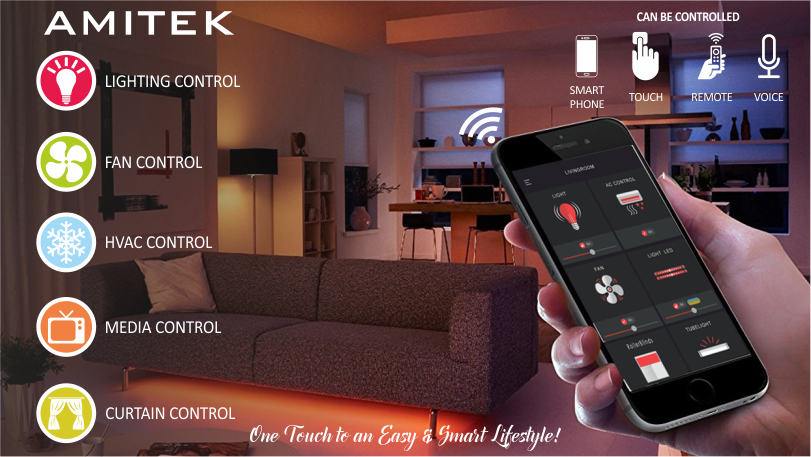 Building automation is often referred to the controlling of HVAC, Lighting systems, Electronic security, access control or any electrical or electronic devices via centralized location or through a wired or wireless network. It is an example of distributed control system. The goal of building automation system is improved occupant comfort, efficient operation of building systems (centralized controlling of devices), reduction I energy consumption and operating costs and improved life cycle of utilities.
In simple words building automation system keeps the building climate within a given specified range, provides light to rooms based on occupancy schedule monitors performance and device failures in all systems and give malfunction alarms to the building staff. A building Automation system should save building energy and maintenance cost in compared to a non - controlled building. Most commercial and industrial buildings that are constructing currently are going for building automation systems in order to reduce their power consumption, electricity bill, utility and to increase the life cycles of the devices, many older buildings have been retrofitted with automation systems through different kinds of wireless technologies(like Z-wave, Zigbee and smart switches operated with Wi-Fi ).
Traditionally lighting systems, electronic security, access control or any other devices are connected to the PLC (Programmable Logic controllers) and these PLC are connected through a primary BUS connection (like S – BUS, KNX and C- BUS), BUS connection is created to have communication channel between the devices and the processor (brain of the system). Then, through a hybrid link converter or through the processor BUS devices are provided on the network to set their parameters or to operate them within the premises or outside the premises, it also allows smart voice controlled devices like AMAZON ALEXA, GOOGLE HOME to integrate within the network and provides an interface for the operation.
Now-a-days Wireless automation devices are very much in trending as they are easy to install, easy to program (even DIY products are also available), economical and can be installed in the already constructed old buildings as well, therefore these devices have attracted the customers in huge numbers. Like traditional devices wireless automation devices also have different protocols (like Z- WAVE, ZIGBEE and Wi-Fi).
People can choose with different range of automation products that are available in the market, while choosing the product for building automation there are following things which a person needs to look out for:
1) First step is to choose the features you want, you will end up selecting a right product.
2) Flexibility: After selecting the features you need to look for the products that how much flexibility it is providing, it should never bound you to do something in a particular way.
3) Ensure compatibility: Home automation is constantly evolving field. New products become available all the time and replace older products. You should keep in mind your devices are compatible with the technology you are selecting.
4) User friendly: The basic purpose for shifting from traditional processes of lighting and other appliances control is the greater demand of using things with ease and comfort. Suppose your home starts responding by a click on your smart phone, that's the power of building automation for you.
Related keywords : home automation , home automation in jaipur , home automation in delhi , home automation in mumbai , home automation in pune , home automation in indore , home automation in bhopal , home automation in rajasthan . home automation services all over india , security alarm all over india , smart switches supplier in jaipur , smart switches supplier in Delhi , smart switches supplier in rajasthan , smart switches supplier in pune , smart switches supplier in mumbai , smart switches supplier in mumbai , smart switches supplier in indore , smart switches supplier in bhopal , smart switches supplier in amritsar , smart switches supplier in punjab