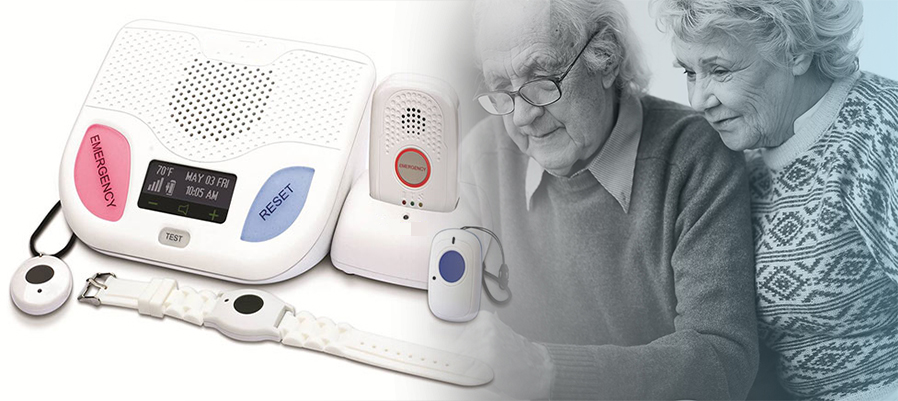 Medical Alert & Medical Monitoring
As more Citizens enter their golden years, AMITEK medical alert and monitoring services can help seniors remain independent, safe and secure in their own homes around the clock. Caregivers can also have peace of mind knowing their loved ones can get help with the touch of a button.
Enhance Your Security with a Medical Alert System
If you're a senior citizen, you're likely to have a strong desire to remain independent in your own home rather than moving in with loved ones or entering an assisted living facility. While you're home alone, however, you might face a situation that requires immediate attention. Also, many seniors face chronic medical conditions that leave them vulnerable to a sudden medical emergency. Caregivers are also concerned about safety of the ones they love. Medical alert monitoring from AMITEK is the answer for all of these situations.
Our medical alert service works in conjunction with your existing alarm system. It's a pendant you can wear around your neck or on your wrist. In case of emergency, simply push the button on the pendant to be automatically connected to AMITEK 24-hour monitoring center. We'll use the speaker inside your control panel to communicate directly with you and assess your emergency. If you do not respond, we will immediately dispatch help to your location.
Medical alert monitoring from AMITEK means there's always someone to help in case of an emergency. It's the ideal solution for elderly persons or individuals with chronic medical conditions. It can help seniors remain in their homes longer, as well as alleviate some of the stress involved with caring for someone with chronic medical problems.
Let one of our authorized dealers show you how medical alert monitoring from AMITEK can help keep you safe, secure and independent.
Independent lifestyle. Dependable medical response.
We're committed to helping seniors and those with medical conditions feel independent, safe and secure at home. Your medical alert system gives you instant access to professional, caring assistance 24/7.
Falls are the leading cause of death due to injury in those people 65 and over – and seniors who fall are two to three times more likely to fall again

Many chronic medical conditions leave seniors vulnerable in their own home: cardiovascular and pulmonary disease, arthritis, diabetes, osteoporosis, loss of hearing and/or vision, Parkinson's disease, and more

One press of your medical pendant transmits a signal to us from any location in range of your security system

AMITEK certified operator swiftly dispatches emergency personnel if needed
---